Award
Winning
Recipe
from Barbara's Kitchen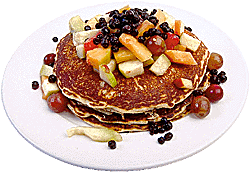 Cinnamon Pancakes
No cholesterol and vegetarian!
Here's a quick and easy recipe for pancakes using a pre-boxed pancake mix and no eggs or milk.
If you're following a low cholesterol diet, these pancakes contain absolutely NO cholesterol. Although some foods may contain NO cholesterol, they may still be high in vegetable fat. Too much dietary fat, whether it's plant or animal fat, causes production of excess cholesterol in the body which contributes to coronary artery disease.
Check your individual plan for allowed portions on the CarboH diet.
Ingredients: (makes 10 small pancakes)
1 cup Pancake Flour (Use a commercially boxed pancake mix
that calls for the addition of eggs and milk.)
3/4 cup Soy Milk
1 TBsp Cornstarch in 1 TBsp cold water
1/4 tsp Vanilla Extract
1 TBsp Cinnamon
Recipe:
In a separate bowl, mix cornstarch in cold water using a sifter so it doesn't clump together. Add the remainder of the ingredients and mix well. Pour onto a hot, pre-oiled frying pan.
Topping:
Top hot pancakes with fresh fruit, canned fruit packed in syrup, or pancake syrup. (Note: If you're following the CarboH diet plan, you're allowed 1/4 cup fresh fruit and free fruit, or no more than 1/4 cup sugarless syrup, or two TBsp Lite pancake syrup along with fresh and free fruit. Canned fruit packed in syrup is not allowed.)

Eat and Enjoy!
Where do you get your nutrition information? Most states now have licensure laws for Dietitians and Nutritionists. Be sure your nutrition advisor is "Licensed" by the State as a Licensed Dietitian (LD) or Licensed Nutritionist (LN), or in states that don't have licensure laws, a Registered Dietitian.

CarboH, Inc.
Barbara Herondorf, L.D.
Home | FAQ's | Sample Menu | Policies
More About CarboH | Order CarboH | Contact Us | Letters